Annie Lilia Berge Strand, Jeg vil gifte meg med deg?
Man alive how I've neglected you my dear few blog readers. Since my trip will be taking me off the continent in three weeks time I got an early start on Rocktober by catching Bergen's musical darlings
Röyksopp
and
Annie
.
As all y'all know it's no secret that I went to the shpw for Norwegian pop princess Annie. You see for this Britpop/Northern Soul/indie rock lovin' boy Annie's
Anniemal
renewed my long lost love of pure unabashed euro dance pop.
So naturally I'm more than a little Smitten with Ms. Annie Lilia Berge Strand. Unfortunately the performance didn't quite live up to my unrealistic lofty expectations. Yes I'm well aware that electronic music is a studio art that's best left for that setting and I was well informed of
the unflattering accounts of her early performances where she forgot lyrics, acted shy ande hid in the DJ booth
.
Her performance Toronto tour stop at
Opera House
was nothing like that. It was very much like her persona on Anniemal. There were flashes of the confidence inspiring moxy that dismisses cocky men as chewing gum rather than the chocolate they'd like to think they are. For example she pointed seductively during the chorus of Greatest Hit. But that was tamed with the demure behavior of a girl who once cried under the pin-up-on-her-wall—she disappeared for a whole minute-and-half during a song and left before the "band finished playing heartbeat. Now on to what was well…less than stellar.
As anyone who listened to Anniemal will tell you much of her appeal lies in her wispy vocals. That's a key part of what makes Annie different from all the other dance divas with slick production and or cute lyrics. So I was greatly disappointed that her vocals were being buried in the mix to the point that if you didn't know the lyrics already you certainly weren't going to learn them that night. Granted as the she ran through her set the mix seemed to improve slightly but that may just have been my ears adjusting.
My other major disappointment was that Annie only played six tunes—hardly enough time for me to get up the courage to purpose to her in Norwegian. Yes, the set included Chewing Gum, Greatest Hit and closed with Heartbeat, but it unfortunately the woefully neglected album gem Me Plus One was shunned. Still my girl did treat us all by playing the highlight of the show, the new track The Wedding—unfortunately it elicited more giggles than cheers.
That leads me to my biggest surprise of the evening. The vast majority of the people were there to see Röyksopp. I know Annie was support, but I seriously must live in the blog bubble 'cause I figured that the place would be packed with indie hipster types fawning over Annie. Man was I mistaken.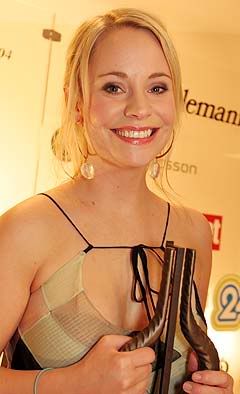 A concertgoer affectionately named hipster dufus just went nuts in the Electric Circus meets rhythmically challenged raver in front of for the entirety of the duo's set—yes I did do the immature mimic thing and mock him much to the amusement of the rest of the crowd. (Please note that I'd rather have people dance at a concert than stand in the cooler-than-thou arms cross, but when the place is sp packed that you're constantly stepping on feet, elbowing ribs and hitting faces with your failing arms, you have tone it down a bit.) The rest of the crowd also shimmed along as Röyksopp played the usually suspects like Eple, Poor Leno and Only This Moment peppering-them-up with enough flourishes to differentiate things from the studio versions. They wisely avoided too much of their more downbeat sound, which likely would have lead to the dreaded cooler-than-thou arm cross. They faired better than Annie with a lack of vocals on most tracks (they brought a lady, who wasn't Annie! and was never introduced, to provide vocals when the tracks called for them) and a better set-up.
That begs the question why did Annie's set -consist solely of a dude behind a sound machine twiddling knobs/playing recorded backing tracks and a guitarist? I can only imagine if she had a stellar band like James Murphy did for the
LCD Soundsystem
show or even Diplo DJing like
M.I.A.
had when they played the Opera House—she could've been absolutely ace. That being said I can't fault the her backing "band" 'cause they did change the arrangements adding sound effects, distortions, different drum machine patterns and even guitar and sound machine jamming to extend Heartbeat and bring some value to the live performance.