Dogs bite man for excessive walking
Day 1 Oct. 13
London
Man alive, am I stupid. And not just brain-fart-stupid. No I'm the worthy of an
award-kind-of-stupid
.
I got a shit-ton of good advice from the experienced sales person at
Europe Bound
. Get a good pair of hiking/shoes boots if I didn't have a pair, he stressed. But being the fashionista/know-it-all that I am, I figured that if I'm strictly exploring sites in the city all I should need is a pair of fashionable light trainers.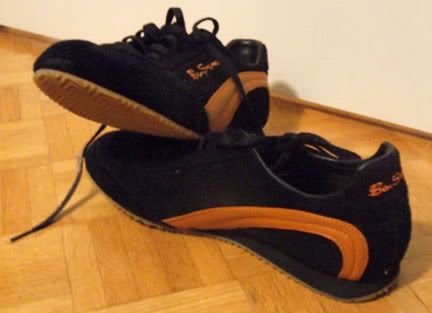 Wrong poindexter!
I didn't even make it past hour five of exploring before I would've gladly lopped off my toes if I had the means. Right now they're so incredibly sore from banging into the toe box with every step that means be damned I will separate these things from my body. I'd also love to amputate the balls of my feet. Although thin soles generally make for light kicks they don't necessarily mean ample cushioning for walking all day. Actually what I'd really love to do is swap feet with you right now. I don't care if they stank like you ran a marathon or if they're full of bunions, corns and ingrown toe nails. Heck I'll take 'em even if you've got
trench foot
—actually no on the the trench foot
Thanks to my stupidity I spent the good part of the day limping around in search of suitable footwear. I can't complain about wasting valuable exploring time, 'cause my stupidity caused this situation.
I started my search (to replace my beloved Ben Sherman's) at my beloved
Ben Sherman
's
flagship
on
Carnaby Street
. Alas, they only have white trainers and it's after Labour Day. Plus everything's not fitting right. Now I explore the neighbourhood on the advice of the lovely sales woman (a transplanted Mancunian) and finally get it though my thick skull to pick-up a pair of
Merrells
.
Although just about every shoe shop has Merrells, the biggest size they stock is a UK size 11. That shouldn't be a problem 'cause that converts to my usual North American 12. After the third store I learn that for Merrells a UK 11 is more like a North American 11.5—a half size too small. Given that my current shoes are unbearable 'cause they're too small I'm definitely not settling on shoes that are a skosh bit tight. At this point I'm convinced there isn't a pair of 12s to be had in a regular store. I'm begging every poor clerk for a clue to the location of a backpackers store in this town.
After the fifth failed attempt I landed upon a shop that was willing to order them for delivery later that week. Unfortunately, I'd be finished my visit to Rome by then, I remarked outloud. Then the too kind store clerk brought over someone with a bit of experience and after hearing my predicament about the shoes and the lock, the angel of clerk was able to point me to the backpacking places—hallelujah!
Unfortunately they're all in
Covent Garden
, which by this point was an excruciating 45 or so minutes of hobbling. After thanking her and taking another minute of rest I was reluctantly off.
Fifteen minutes later something caught my eye. I stopped dead. My mouth was agape. Across the street from me appeared to be a genuine backpackers store. I quickly darted across the street hoping my mind wasn't projecting my desires onto an unrelated establishment.
It turns out I stumbled upon one of the few backpacking shops outside Covent Garden. My search was over. Since it was located outside the Garden (quite an expensive neighbourhood) I was told this place was cheaper than its sister store—bonus! Not only do they have the Merrells (in my choice of colour), but they've got a replacement
red diamond lock
. On top of that I'm even able to pick up a waterproof breathable coat that I forgot to pack for 45 Canadian dollars.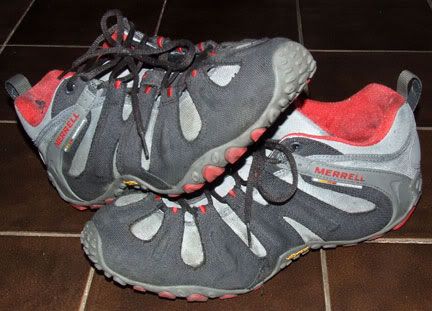 Clearly whatever deity that runs this universe is turning into a bit of a softy. But don't tell it I said that I'm only on day one of the trip.