In this man's hands the music will most definitely last
If you were in the GTA on Friday night and you weren't at
Lee's Palace
you should be simultaneously kicking yourself in the head, stomach, kidneys and groin. The reason? You missed what is Toronto's gig of the year if not this young century.
If you ask me
Jamie Lidell
's soul/R&B soaked and electronically tinged
Multiply
was 2005's album of the year. But his live show…well…it's absolutely mind-blowing.
Take the twitchy electronic flourishes of
Four Tet
, beatboxing à la
Rahzel
, some of the resonant techno of
Ellen Allien
, the soul-funk of
Sly and the Family Stone
and the nerdy-extroverted stage presence of
Jarvis Cocker
and you've got the vaguest idea of Lidell live.
I know that sounds like sonic equivalent of combining a
Mondrian
, a
Pollack
, a
Dalí
, a
Monet
and a
Warhol
. But rather than a derivative abysmal mess Lidell creates something entirely original and stunningly beautiful.
Coming on stage in an off-white trench, thick glasses and a shaggy haircut, Liddell looked every bit the quiet music nerd. Not exactly the outfit you'd expect from someone whose record has more soul than the entire Billboard R&B 100 combined. But by the show's end the coat was off and the man was recalling Britpop's great frontmen with jerky dance moves (sorry Lidell's footwork is no match for James Brown) and working the crowd into a sweaty mess like Motown's greats.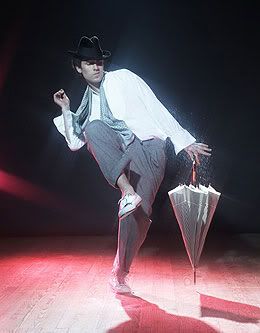 Those who've listened to Multiply are in for completely different experience hearing it live. Much of the time you can only make out an abstract sketch of the album versions. For instance the sampled "A little bit more, a little bit more" vocal that dominates the beat of the album cut of the same name is only introduced three-quarters of the way through the live version. Sampled live, Lidell uses his vocal as more of a sonic flourish than the backbone of a beat.
What really impresses about Lidell's live shows is the man's ability to create a song seemingly out of nothing. Numerous times he'd tuck his head in his shoulder, shield his face with his hand and start beatboxing. He'd sample it. Then he'd begin layering that with a drum beat. Later he'd sample other vocal orchestration, fiddle with a few knobs and before you'd know it the man would have a tune that would shame even the most notorious studio perfectionist or the most talented nine-pieces.
The whole process was so seamless and subtle that my plus-one looked over a couple songs in and asked 'Did he just create that whole song with his voice?'
Still it wasn't effortless—he was constantly multitasking. He continually darted from one side of his set-up to turn on a sample, scratch some records or lean over his gear from the wrong side to tweak a knob on his soundboard. By the time he finished his encore the sweat on his clothes and the exhaustion in his voice said he gave it his all.
Lidell didn't just showcase the brilliant electronic instincts he honed in
Super_Collider
and on
Muddlin Gear
. Some of the night's most enjoyable moments were when he sat down on a stool and let his soulful voice dominate over a minimal beat like on Game For Fools and What Is it This Time?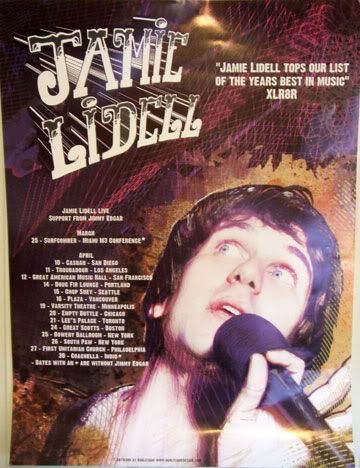 But what really sold me on Lidell's brilliance was that he managed to get the usual crowd of crossed-armed-cooler-than-thou-indie-kids moving. I'm not just talking about the group of enthusiastic kids a couple rows from the front of the stage who flail their arms singing along to every word. No, Lidell managed to get everyone from those up close in the pit all the way to the back in various states of dance from simple head-boping to all out busting a groove. That's a feat I've yet to see duplicated in this town.